Lock changes, in particular, are important for maintaining the integrity of your security system, especially if you've lost your keys or experienced a break-in.
If you're in London and need a lock change, you can count on professional locksmiths to help you out.

Lock changes are necessary for a variety of reasons, such as when a key is lost or stolen, when a lock is damaged or worn out, or when a homeowner wants to upgrade to a more secure lock.
Changing a door lock requires knowledge and expertise in locksmithing, as well as the proper tools and equipment.

Looking for a trustworthy and cost-effective "lock change near me" solution?
You've come to the right place! Our experienced locksmiths provide top-notch lock change services for both residential and commercial properties.
We take pride in our rapid response rates and ensure that our locksmiths reach your location within minutes of your call.
Front door lock replacement

Our locksmith in London is a highly skilled and experienced professional who specializes in front door lock replacement.
Whether you have lost your keys, your lock is damaged, or you simply want to upgrade your security, our locksmith is here to help.

Whether you need a lock barrel replacement due to wear and tear, damage, or to upgrade your security system, our team can help. 
We use only high-quality replacement parts and the latest techniques to ensure that your new lock barrel is installed safely and securely.
Type of door locks for residential or commercial
Whatever type of door lock you need help with, our team of expert locksmiths in London can provide the solution.
We pride ourselves on our quick response times, competitive pricing, and exceptional customer service, ensuring that you get the best possible service every time.
Deadbolts
Knob locks
Lever locks
Smart locks
Mortise locks
Cylinder locks
Banham locks
Deadbolts
Deadbolts are the most secure type of lock, as they are virtually impossible to pick. They are typically installed on exterior doors and are best for high-security areas. They come in two different styles: single-cylinder and double-cylinder.
A deadbolt lock is a sturdy and secure type of lock that is commonly used on residential doors. Our team can install, repair and replace deadbolt locks of all kinds.
Knob locks
Lever locks
Smart locks
Mortise locks
Cylinder locks
Banham locks
We offer a wide range of high-quality locks to choose from, ensuring you find the perfect fit for your home's needs.
Our team will also provide expert advice on the best type of lock for your specific requirements, taking into account factors such as location, property type, and budget.
If you've recently moved into a new house in London, changing the locks is a good idea to ensure the security of your home.
Our Change Locks New House service offers a fast, efficient and reliable solution for securing your newly acquired property.
With our team of skilled locksmiths, we provide a comprehensive lock change service, replacing your existing locks with high-quality, British Standard approved products. 
Cost of changing locks on house
The cost of changing locks on a house in London can vary depending on a few factors such as the type of lock, the number of locks, and the complexity of the job.
As a rough estimate, changing a standard front door lock could cost anywhere from £80 to £150, while changing a more advanced locking system, such as a smart lock, could cost upwards of £250.
Keep Your Property Safe and Secure
Are you worried about the security of your property? Have you lost your keys, or are you concerned that someone may have unauthorized access to your home or business?
Then you need to consider changing your locks.
Lock change services in London are designed to provide you with the peace of mind that comes from knowing that your property is safe and secure. Here are some reasons why you may need a lock change:
Yale
Chubb
Era
Ingersoll
Assa Abloy
Legge
Union
Banham
Brisant
Mul-T-Lock
Yale
Yale locks are a popular choice for home and business security, as they offer a high level of protection against intrusion.
Yale locks typically feature a cylinder that contains a series of pins of different lengths. The cylinder is inserted into the lock and turned with a key, which lifts the pins to different heights to align them with the shear line, allowing the lock to be opened.
Yale locks come in a variety of styles, including deadbolts, padlocks, and mortise locks. They are often made from durable materials like brass or steel, and may include additional features like keyless entry, smart technology, and bump-resistant designs.
Yale lock change services involve replacing your existing lock with a new Yale lock. Yale locks are known for their high-quality and durability, and they offer a range of options to fit your specific security needs. A locksmith can come to your location, remove the old lock, and install the new Yale lock in its place, ensuring that your property is secure and protected. This service can be helpful if you have lost your keys, want to upgrade your locks for better security, or if your current lock is damaged or broken.
Chubb
Era
Ingersoll
Assa Abloy
Legge
Union
Banham
Brisant
Mul-T-Lock
Changing door locks for best security
A good front door lock will greatly improve your safety and security make you less susceptible to break- ins. A top quality lock implies high initial costs, but the advantages that come with it are worth it. 
We offer a wide variety of locks, suitable for any pocket. Whether you choose deadbolts or accessories from Era Products to Multi-Lock, Union, Chubb Locks, Mila, and Assa Abloy we guarantee safety and professionalism. 
Changing locks fast with us. Having great products installed increases your physical protection and reduces your worries. 
Choosing a professional deadbolt will make it harder for burglars to break in. You can prevent or delay burglars from getting inside your house. We will make sure to let you know more about your security situation. 
With City local Locksmith, you will be able to educate yourself and be more aware of what you can improve. 
Professional locksmiths for changing a lock
We have the proper tools to change a lock without producing damage in the process. Our licensed technicians have years of experience in dealing with all types of locks and doors.
They will replace locks for wooden, metal or uPVC doors.  Not asking for professional help when you have a damaged lock can put you and your goods in danger.
We have residential and commercial locksmiths who are always prepared to answer your call. They will deal with your home or office lock in a fast and efficient manner. All you have to do is contact us and let us know what you need, and a professional can be with you in less than 30 minutes.
We will change your home or office locks in no time, at low costs. There is no need for you to worry if you have limited budget.
We will provide cost-effective solutions. You can select professional deadbolts from our trustworthy suppliers, from Banham to Yale.
Lock change in London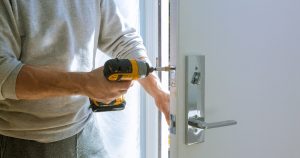 Lock change with professional locksmiths - our specialist can offer a lock change or lock repair services 24 hours a day. Fitting door locks at good cost is now possible with our services.
Service Type: Lock change
Price: 59-449
Currency: GBP