We provide comprehensive lock installation services across the Greater London. We offer everything from standard door locks to upgraded security locks, suitable for residential, commercial, and automotive applications.
Door Lock Installation Service

This service ensures that all new locks are installed correctly, giving you the peace of mind that your residence or business is fully secure.
From choosing the perfect lock from the wide selection available, to cutting keys and installing them on your door and handles, professional locksmiths ensures that all your locks fit securely and function properly.
We have a wide variety of locks to choose from, including Euro Cylinders, Smart Locks, Electronic Locks, Keyless Access Systems and Mortice Locks, all of which meet the rigorous British Standard requirements.

Fresh Lock Installation is a full service mobile locksmith company that provides fast and reliable service at an affordable price.
Our professionals are highly trained in installation and repair of virtually any type of lock and secure entry system.
We are experts in the installation of keyless entry systems, digital locks, sliding door locks, magnetic locks, deadbolts, keyless entry systems, access control systems, and more.

For those looking to install a smart lock, our services provide professional and reliable installation of the smart lock.
We will help you select the best lock for your needs, and then our experienced technicians will go through step-by-step to ensure the proper installation of the lock.

Our experienced technicians ensure that all lock fittings are of the highest quality, utilising the latest technologies in door locks and security.
Our specialists also advise on deadbolts, high security systems, to make sure that you have the best defence against intruders.
Experienced team is here to provide a secure and reliable door lock fitting service that meets all of your needs.

Whether you require a simple replacement latch, an emergency repair, or the refurbishment of an older latch, we guarantee a rapid response, friendly and efficient service and the highest quality of workarounds to ensure a perfect latch.
So for all your door latch needs in London, you can count on us for a reliable, cost-effective and speedy solution.
Magnetic Door Lock Installation

With this innovative security solution, you can enjoy reliable security without any of the drawbacks of traditional locking systems.
Magnetic door locks are easy to install and come with advanced features that offer enhanced security and convenience.
With a choice of stylish designs, you can add a touch of sophistication to any door, making your home or business more inviting and secure.
The offer for all types of door locks includes a discounted rate on the cost of the lock. Depending on the level of security you require, the rate of the discounted price would vary.
We offer professional installation and advice on types of locks, as well as improved safety tips for your home or business. 
Sash locks
Deadlocks
Rim locks
Lever Handle Locks
Knob Locks
Mortise Locks
Keypad Locks
Magnetic Door Locks
Sash locks
Sash locks are a type of lock used on doors and windows. They are designed to secure sashes, or frames, that hold the glass in place.
The lock works by catching into a small opening in the frame and prevents the window or door from being opened.
We offer sash lock installation services in London; so you can rest assured that your home will be kept secure.
Deadlocks
Rim locks
Lever Handle Locks
Knob Locks
Mortise Locks
Keypad Locks
Magnetic Door Locks
Lock installation in Greater London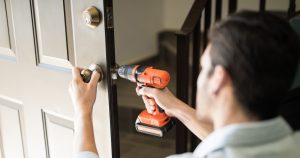 Lock installation involves the process of fitting a locking mechanism to a door or other type of access point to provide security and control access. The installation process typically includes drilling holes in the door, positioning and securing the lockset, and ensuring that it functions properly. The type of lockset chosen will depend on the level of security required and the specific needs of the user. Proper installation is important to ensure that the lock functions correctly and provides adequate security.
Service Type: Lock Installation
Price: 64-489
Currency: GBP